Murska W-Max 20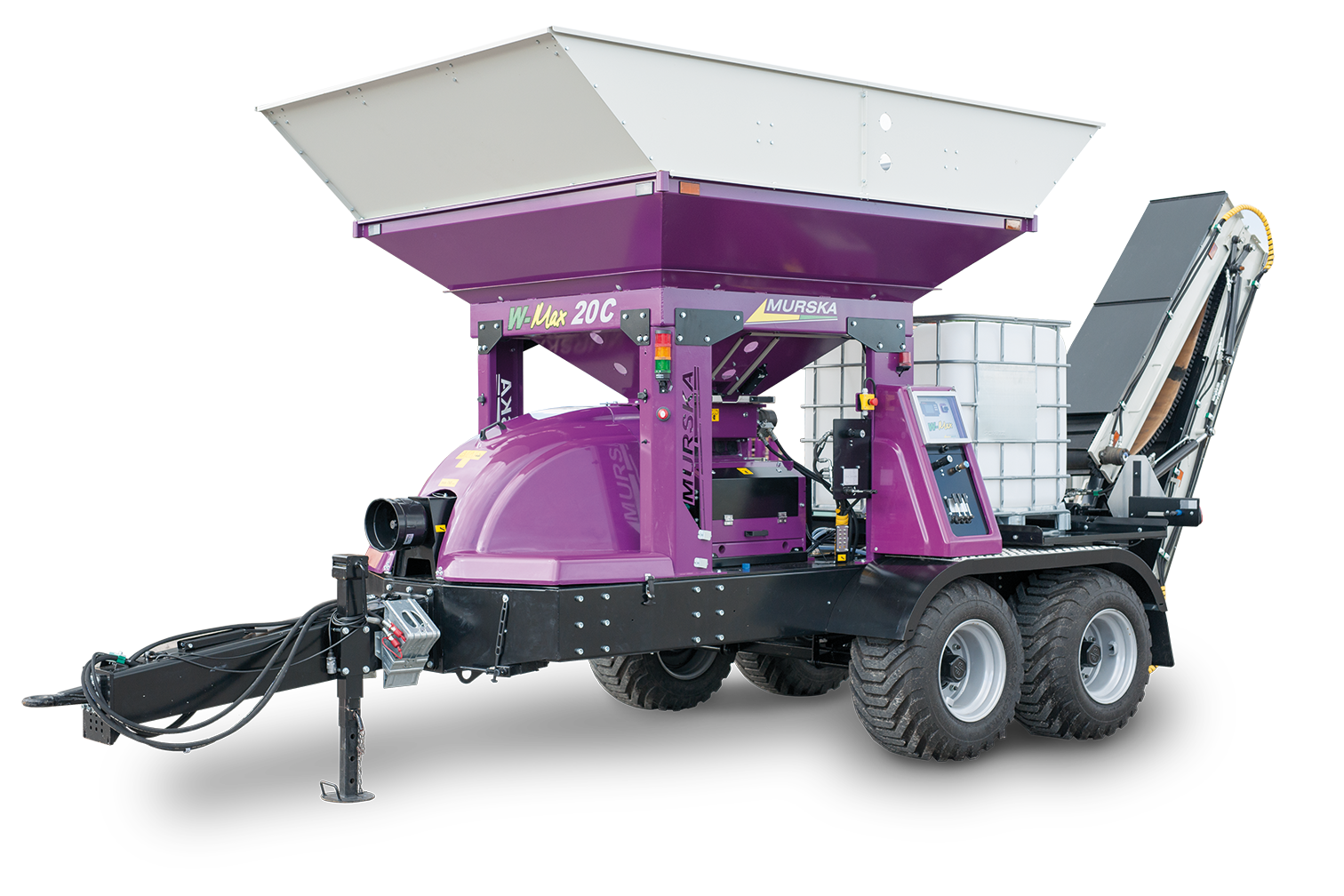 W-Max 20 disc mill
The Murska W-Max 20C is a precision-designed model for professionals. The crimping capacity is up to 50 tonnes per hour, and the tractor power requirement is 125 horsepower. Thanks to its bogie chassis, the mill runs smoothly and comfortably along the bumpiest of roads. It accommodates up to 2800 litres of additive, and a wide range of conveyor options is available.
Product information
| Technical specification | |
| --- | --- |
| Capacity max | 50 t/h * |
| Power requirement | 80–120 kW |
| Hopper volume/auxiliary tank | 2200/3300 l |
| Elevator unloading height | 4480 mm |
| Length bagger/elevator | 7370/7000 mm |
| Width bagger/elevator | 2535/2475 mm |
| Weight bagger/elevator | 4000/3900 kg |
| Loading height | 3120 mm |
| Crimping unit | |
| Discs | 39 pcs |
| Shield magnets | x |
| Protection against impurities | x |
| Options | |
| Elevator extension | 1 m |
| Automatic lubrication | x |
| Murska Data | x |
| Preservative dispenser | x |
| Dischage conveyor options | B/E/BC/FA |
| Transport alternatives | Max bogie trailer |
Bagger = B, Elevator = E, Belt conveyor = BC, Foldable auger = FA, Multipurpose chassis = M, Max bogie trailer = Max, Standard transport chassis = S, 3-point linkage = NK, Transport chassis = K

*Capacity can be lower when crimping horse bean / pea grain mixtures.
The manufacturer reserves the right to make changes.
Murska W-Max technology
Murska W-Max 20 and bagger in action
Murska W-Max 20 in Siikajoki, Finland
Crimped feed for beef cattle
"We crimp about 2 million tons of grain annually for our 1400 beef cattle. We have used the Murska 2000 mill already for ten years. The main benefits compared to drying are energy savings and more effective feeding. Cattle likes crimped grain fodder and it is also nice for the farmer, as there is no grain dust. The mill has been very reliable and long-lasting."
Juho Isopahkala, Finland
Crimping mill in a Danish pig farm
"We heard from some colleagues about their success with crimped maize in pig feeding. We started with a little part of the maize in the first year. Next year we bought a new Murska S 2000 with universal rollers. With that machine we were able to crimp maize, peas, lupin, beans and all kinds of grain. Now we have crimped with Murska for the past four seasons and we are getting more and more satisfied every year."
Jesper ja Jorgen Nielsen, Danmark
Farm contractor using crimping mill
"Health and well-being of the animals is the reason why my customers choose me as their contractor. Crimped maize improves animal health and increases milk production. Farmers are happy with crimping as they can feed the animals with quality maize produced at their own farm. This saves money as there are no drying or transportation costs."
Ramon Codony, Spain
Savings in drying costs
"I was aware of the high drying costs of grain as grain is not often harvested dry in this area. Reliance on off-farm storage and processing was also a minus. I purchased Murska 1400 in time for 2011 harvest and ensiled 2800 tons. The crimping process suited us and it increased the profitability and performance of the cattle. So the following year we built two more purpose built crimp clamps of 750 tons each."
Fraser Scott, England
Are you interested in our products? Contact us.
"*" indicates required fields